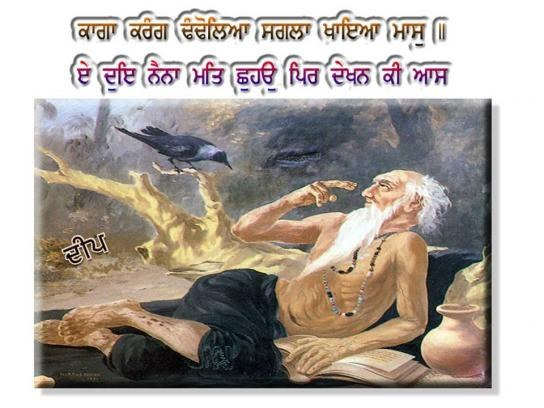 I am neither Hindu nor Muslim -

Let us sit in the spinning part and abandon pride

Since the Lord dwells in every heart

I have renounced to be either a Hindu or a Turk

(Baba Farid)

Hazrat Bābā Farīduddīn Mas'ūd Ganjshakar (Persian: حضرت بابا فرید الدّین مسعود گنج شکر, Punjabi: حضرت بابا فرید الدّین مسعود گنج شکر, ਫ਼ਰੀਦ-ਉਦ-ਦੀਨ ਗੰਜਸ਼ਕਰ) (1173–1266)[1][2] or (1188 (584 Hijri) - May 7, 1280 (679 Hijri)),[3][4] commonly known as Baba Farid (Punjabi: بابا فرید, ਬਾਬਾ ਫ਼ਰੀਦ), was a 12th-century Sufi preacher and saint of the Chishti Order of South Asia.[1]
Hazrat Baba Fariduddin Ganjshakar, a
Sufi
, is generally recognized as the first major poet of the
Punjabi language
[

3

]
and is considered one of the pivotal saints of the
Punjab region
. Revered by
Muslims
and
Hindus
, he is also considered one of the fifteen
Sikh Bhagats
within
Sikhism
and his selected works form part of the
Guru Granth Sahib
, the Sikh sacred scripture.
.read+